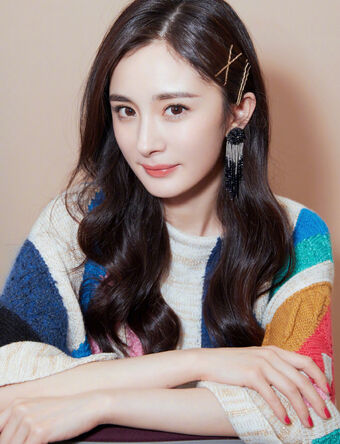 ~Occupation:Actress,Singer,Prod.
~Nationality: Chinese
~Birthplace: Xuanwu D. Beijing,
C.
~Birth Name: Yang Mi
~Chinese Name;
杨幂
~Birth; Sep. 12
,
1986
~Height;
1.68 m
~Zodiac S.; Virgo
¨Bai Qian¨
Yang Mi made her debut at the age of four. She graduated from the ¨Xuanwu Experimental Primary School¨ (now-defunct). In her career she received various recognitions for her roles in some of the dramas she worked in, also won the best actress award at the ¨WorldFest Houston International Festival¨ for her performance in ¨Reset¨ in 2017.
Filmography:



Movies;
| | | | |
| --- | --- | --- | --- |
| Year | Name | Role | Extra |
| | | | |
| | | | |
| | | | |
| | Brotherhood Of Blades II: The Internal Battlefield | | |
| | | | |
| | L.O.R.D: Legend Of Ravaging Dynasties | | |
| | | | |
| | | | |
| | | | |
| | | | |
| | | | |
| | | | |
| | | | |
| | | | |
| | | | |
| | | | |
| | | | |
| | | | |
| | | | |
| | | | |
| | | | |
| | | | |
| | Painted Skin: The Resurrection | | |
| | | | |
| | | | |
| | | | |
| | All´s Well, Ends Well 2012 | | |
| | | | |
| | | | |
| | | | |
| | | | |
| | | | |
| | | | |
| | | | |
Dramas;
| | | | |
| --- | --- | --- | --- |
| Year | Name | Role | Extra |
| | | | |
| | | | |
| | | | |
| | | | |
| | | | |
| | | | |
| | | | |
| | | | |
| | | | |
| | | | |
| | | | |
| | The Four Scholars In Jianghan | | |
| | | | |
| | | | |
| | | | |
| | | | |
| | | | |
| | | | |
| | | | |
| | | | |
| | Expressway Of First Empire | | |
| | Met As Strangers, Once Acquainted | | |
| | The Four Brothers Of Peking | | |
| | | | |
| | | | |
| | | | |
| | | | |
| | The Legend Of The Twelve Chinese Zodiacs | | |
| | | | |
| | | | |
| | The Dream Of Red Mansions | | |
| | | | |
| | Detective Di Renjie-Prequel | | |
| | | | |
| | | | |
| | | | |
| | | | |
| | | | |
| | The Return Of The Condor Heroes | | |
| | Strange Tales Of Liaozhai | | |
| | | | |
| | | | |
| | The Story Of A Noble Family | | |
| | | | |
| | | | |